Based in the San Francisco Bay Area, Purple Fox and the Heebie Jeebies has been brewing hand-crafted progressive funk with sweet, caramelized ear-candy and subtle, nutty reggae overtones, filling a void on the children's music scene since 2014. 
With colorful hair and wacky costumes, bandleader Josh Friedman has brought new energy to the Bay Area children's music scene with 2017's My Purple Fox featured in Afternoon Snack, the band's original children's TV show, which took home that year's national Hometown Media Award for Best Community TV Show by an Independent Producer. Their sophomore album, The Something of Love, in 2018, earned a Tillywig Top Fun Award and National Parenting Product (NAPPA) Award. The group's 2019 release, Something's Brewing… It's Halloween!, a Latin rock and free jazz adventure; setting a new standard for sounds to lift spirits during spooky season. 
The band's live shows range from interactive musical performances at festivals or school assemblies to intimate acoustic accompaniment at benefits and other private events. While starting out primarily as a progressive funk-rock outfit with as many as twelve band members, Purple Fox and the Heebie Jeebies most often features Josh Friedman (vocals, ukulele), Kristen Cardiasmenos (guitar), Brett Warren (bass), and Justin Markovits (drums). Over the years, the quartet has evolved the band's sound into a unique blend of progressive funk, playful dance-pop, and cheerful reggae with complex, percussive instrumentation and wholesome lyrics that center around themes such as kindness and respect. 
The PFatHJ Experience brings its fun interactive performance to kids and families everywhere
Moon Alice radio host Ben Fong-Torres (Rolling Stone Magazine) plays Perfect Day
Purple Fox and the Heebie Jeebies
"My grandma plays The Something of Love CD for my brother and me everyday. My favorite song is Perfect Day A A A A..., and I like the songs about being polite too. Thank you! " - Austin, 3rd grader, Petaluma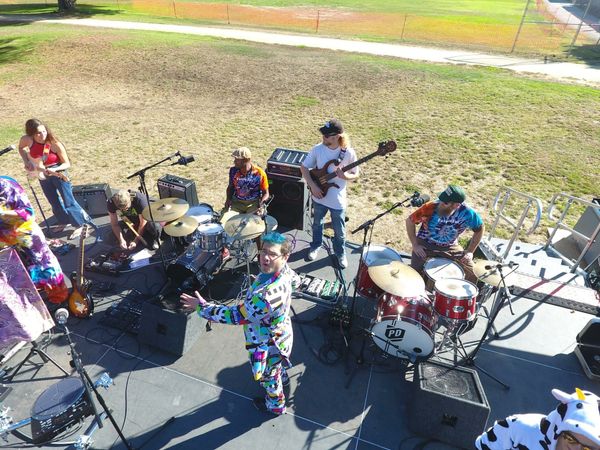 "We had a blast! Great music and atmosphere for kids. And it was fun chatting about how you got into the kids music scene. My kids LOVE their Purple Fox shirts and look forward to listening to the funky cd! " - -mom and kiddos
Our Biography
Publishing: Josh Morgan Music ASCAP
Record Label: 8th Dynamic Records    
  
Josh Friedman - vocals, ukulele , bandleader 
Brett Warren - bass  
Kristen Cardiasmenos - guitar  
Justin Markovits (Plumber Drummer) - drum
  
Jessica Morgan - trumpet 
Luke Kirley - trombone & tuba   
Lucie Blue Duffort - vocals
Max Cowan - organ
Jude Friedman - vocals
Jozy Friedman - vocals
Josh lives with his wife Jess, son Jude, daughter Jozy Bellatrix, ratsnake Angora, Chip the dog, and backyard resident Professor Sprout the Flemish Giant Rabbit in a cozy house in Sunnyvale, California.  You can learn more about Josh's music at www.myteacherjosh.com.    
As a versatile musician with an omnivorous appetite, guitarist Josh Friedman has opened from Slightly Stoopid to Howard Hewitt (Shalamar), performed in many ensembles, featured on the electric guitar in the Cabrillo Music Festival, has collaborated with the Opal Street Dance Improvisational Theater, written, recorded and toured with established progressive rock band Fractal, and recorded as a studio musician with many including the prestigious Saint Michael Trio from Palo Alto.   
    
As a composer, Josh was the winner of the Sound Horizons Composition Competition in 2007, and has 3 collections of solo guitar studies written for his students, with rave reviews.   
2013-2017, Josh was the co-manager of the Palo Alto chapter for the West Coast Songwriters, holding a monthly song competition broadcast Live on TV.  
Junction on IMDb     
www.imdb.com/title/tt2147357/fullcredits?ref_=tt_cl_sm#cast   
Josh Friedman on IMDb    
www.imdb.com/name/nm6239489/?ref_=ttfc_fc_cr49 
Purple Fox and the Heebie Jeebies also featured on the children's TV show Afternoon Snack, for which Josh won the 2017 Hometown Media Award for Best Children's Program on Community TV in nation by an independent producer: